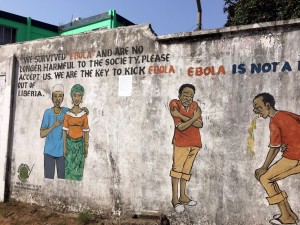 As we ring in the New Year at Red Rover Ventures, we are very excited by our multiple projects underway to help fight avoidable blindness here in Michigan and abroad. Vision 2020 is an international commitment to eliminate avoidable blindness by the year, 2020, and we are really nervous since we are now one year closer but still almost 300,000,000 people are still waiting for eye care. That's everyone in Michigan 30 times over. The most frustrating part is 80% of this is preventable. Why is this such a giant number? We have a global shortage of healthcare providers and a big shortage of well trained eye care professionals. To put this in perspective, there are about the same number of ophthalmologists in the San Francisco Bay Area alone as the entire     continent of Africa. A country like Sudan with 10 million people doesn't have one single ophthalmologist.
Remember the old proverb, "give a man a fish, you feed him for a day, teach a man to fish, you feed him for a lifetime." At Red Rover Ventures, we have adopted the same angle with eye care.
In 2000, we worked with 2 physicians in Rodonia, Brazil to bring additional training and equipment, ultimately we brought both of them to Michigan to further solidify their skills. They taught us a lot too. We needed to invest in the Brazilian communities we worked in by building a water tower in the trash village and outfitting the children for school. In 2008, we worked with MSF primary care doctors in Siem Reap, Cambodia to teach indirect ophthalmoscopy so patients with AIDS could receive screening eye exams by primary care physicians to prevent CMV retinitis. In 2014, we were very much impacted by the lack of eye care services in Africa. We visited Kenya in 2015 and had a request from the Masai to build an eye clinic. We committed to return in 2016.
This week, Dr. Ross heads to Liberia to work with the NIH/NEI as an ophthalmologist in support of the Ebola Virus Disease which is causing vision loss. The project hopes to leave a sustainable eye clinic operational after the study is completed in 4 years.https://nihrecord.nih.gov/newsletters/2015/10_23_2015/story3.htm
Our hope in the year of 2016 for Red Rover Ventures is to complete the plans for an eye care training center and to continue working on our screening mobile unit.